Josefine Ottesen is one of Denmark's most popular authors of books for children and young adults, in terms of both enjoyment and sales.
During the last 35 years, Josefine's authorship has, on several occasions, set the agenda on the Danish children and young adults' book scene. The many national awards and international nominations she has received, covering several different works, testify to her broad appeal and popularity. Several of her books for young people have also met with a positive response from a more mature reading public. With her imaginative stories, filled with adventure and fantasy, Josefine Ottesen has contributed to many children's joyful conquest of reading, as well as retaining young people, boys especially, as readers at an age when their interest in books often wanes.
June 2017
"The Warrior" trilogy re-released in 3rd edition (first edition published in 2001-3).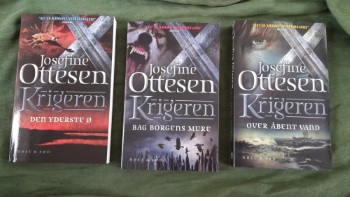 May 2017
"The Feather and the Rose" re-released in 5th edition. This is now a classic title in Denmark – it has now been in print without interruption since 1987! If you have enjoyed reading Hans Christian Andersen's The Snow Queen, for example, you will probably also enjoy The Feather and the Rose. In this classic book, Josefine Ottesen, who incidentally lives not far from Hans Christian Andersen's place of birth, is especially inspired by the old author of fairy tales.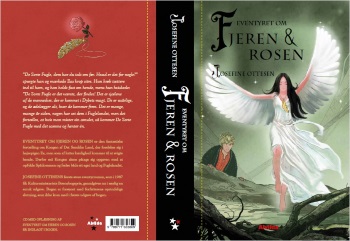 Recent Title – February 2017:
Viking Sagas
Twenty of the absolute best stories from Denmark's Ancient Times, illustrated by Sune Elskær and Lorenz Frølich, and published by People's Press in March 2017.

Viking Sagas contains sagas and tales that have in common that they tell of people, events and places in Denmark and the surrounding areas in and around the Viking Age.


These are stories that have been transmitted orally for many, many years. Some of them were written down around 1000; others were first recorded in the 12th and 13th centuries.


Skandinavians have known for many generations who Rolf Krake was, and known about Ragnar Lodbrog and the Lejre Kings. Now the stories are available once more to new generations.
Selection from reviews:

"...these in every way juicy stories emerge in a modern language that is straightforward and sparkling and told without unnecessary details, yet with exactly the amount of understanding that is also required when you are travelling, as a modern person, more than 1,000 years back in time and history."

"...there is a fantastic gallery of gods, people and other creatures rolled out in the book – and although in reality honour killings, rapes, war and coercion aren't in the least bit pleasant as subject matter, these people and these stories are full of power and thrills."
"The Denmark Blog is very happy to recommend the book to anyone interested in history - or just a good story."
"The only complaint is that there should have been even more stories, even more sagas and even more battles, magic and love."
September 2014
Helgi the Dane given glowing reviews in Danish press. Read a selection of them here.
June 2014
Josefine Ottesen is among the Danish authors with the most titles in Danish libraries – over 200,000 copies! This makes her one of the most-read Danish authors of books for children and young adults in the country.
On 15 September 2013, Josefine Ottesen was presented with the Søren Gyldendal Merit Award, one of Denmark's most prestigious literary awards. The award is chiefly made to authors who are "in the middle of a strong, distinctive body of creative work", as the award's founding articles express it.
Videos

(In Danish with English sub-titles)

1. Get an insight into Josefine Ottesen's working methods. Click here

2. Listen to Josefine talking about her motivation as an author. Click here
3. Interview in English with Josefine and US author Tamora Pierce Click here